Afghan Women's Health and Lives on the Brink
Afghan Women's Health and Lives on the Brink
Life was already extremely difficult for Afghan women before the Taliban returned to power in 2021. Gallup surveys in the years leading up to the takeover showed women were struggling to afford food and shelter, few felt safe, and most saw their lives getting worse with every passing year.1, 2
Results from Afghanistan from the 2021 Hologic Global Women's Health Index survey3 and report confirm how dire the situation is for millions of Afghan women.
At the time of the survey in August and September 2021, Afghanistan's healthcare system was on the verge of collapse and essential health facilities, medications and vaccinations were scarce. In the first half of 2021, the Taliban's vicious attacks on healthcare facilities left 12 health workers dead and 26 buildings damaged, exacerbating the healthcare crisis.4
Relatively few Afghan women reported getting tested for high blood pressure, diabetes, cancer or sexually transmitted diseases or infections (STDs/STIs) in the 12 months prior. In fact, no Afghan women — zero respondents — said they had been tested for any type of cancer in the past year.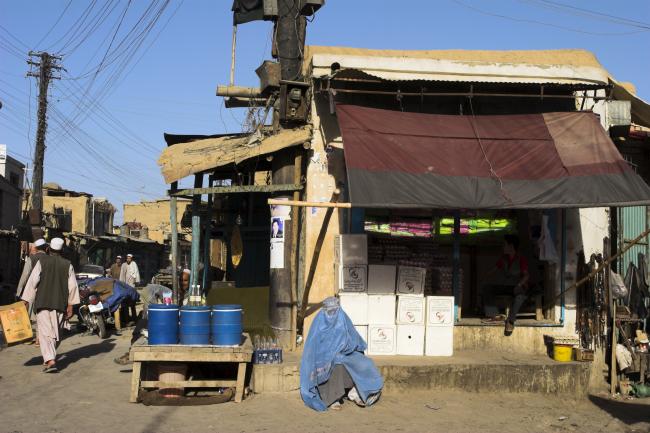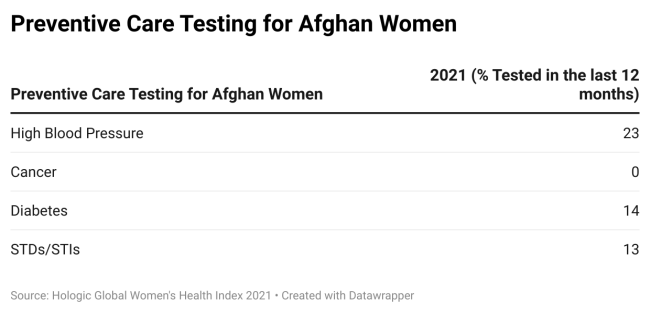 But even if women had been tested for cancer resulting in early detection, cancer treatment is unavailable in most of the country. Just a single hospital in Kabul bears the treatment burden for the entire country, which had a population of more than 39 million in 2021.5, 6
If we compare this to an average city in the United States or even many low- and middle- income countries (LMICs), this is an example of a dramatically underserved population.
The fact that women in Afghanistan were not getting medical tests does not mean they do not value going to a healthcare professional for preventive care. More than seven in 10 (71%) Afghan women said they believe in the value of going to a healthcare professional and 61% said they had been to a healthcare professional in the past 12 months. This demonstrates the incredible perseverance of women in this conflict torn setting.
Access to healthcare professionals remains a challenge: In 2020, roughly one in three Afghans had no access to a functional health center within two hours of their home, according to the UN Office for the Coordination of Humanitarian Affairs.7 With travel restrictions imposed by the Taliban on women traveling more than 48 miles without a male guardian, at this point women may feel discouraged or even endangered to seeking care.8
Negative Emotions Hit a Record High Among Afghan Women
Gallup has been tracking Afghans' emotions since 2008. Worry, stress, anger and sadness unsurprisingly soared to record levels among women and men in Afghanistan in 2021.9, 10
Like men, vast numbers of Afghan women reported feeling worried (85%), stressed (83%), sad (78%) and angry (62%) the day before the survey. However, women reported these emotions much more than men — particularly in regard to anger and sadness.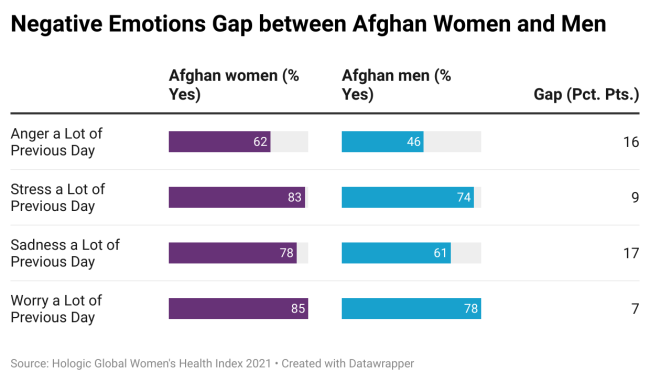 Record Numbers of Afghan Women Struggle to Afford the Basics
The Taliban's takeover made Afghans' ability to afford food even worse. By March 2022, an estimated 95% of Afghans did not have enough to eat or enough money for food.11
Gallup surveys conducted before the Taliban regained control showed Afghans had been struggling for years to afford food — and women more so than men since 2017, with at least a 10-point gap between them each year. At the time of the HGWHI survey in 2021, a record-high 86% of women and 76% of men said there were times when they could not afford food that they or their families needed. Women also disproportionately struggled more than men to afford shelter.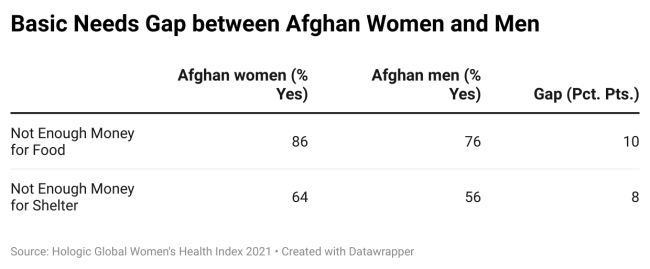 The Perilous Environment Puts Women and Girls at Great Risk for Lifelong Health Issues
In the 20 years after the Taliban's fall in 2001, the Afghan government and international organizations made a concerted effort to prioritize the development of a national healthcare system. There were some key wins, such as an increase in longevity from birth (by eight years for women from 2000 to 201912), improved access to healthcare, decrease in maternal mortality, an increase of births supervised by specialists and more demand for family planning services.13
Now, more than a year after the Taliban retook control of the country, Afghan women and girls have largely been erased from public life and education. More than ever, they are struggling to meet their basic needs, which directly affects their ability to get the healthcare they deserve and require. Without healthy women, it will be impossible to rebuild or move forward — the economy is in free fall, with nearly half the country facing unprecedented levels of hunger.14
From 2002 until the second takeover by the Taliban, women's access to care, while still below global standards and facing great challenges, was showing some small signs of improvement. This was most evident in Kabul because of the greater focus by both the Afghan government and the international community. However, access continued to be a greater challenge in the provinces where the Taliban and al-Qaida were still very influential on daily life. Currently, across Afghanistan, women are unable to go to health clinics or have a healthcare professional examine them without a mahram — a male chaperone.15
If preventive care was rare in 2021, it may very well be nonexistent in 2022, putting the lives of millions of Afghan women and girls at even greater risk, and making it even more important for their voices be heard.
I was diagnosed with breast cancer at the age of 31. At that stage of my life, I felt like all doors were open, I felt like I had all the time in the world.
My water broke and there was blood all over and that's when they realized it was an emergency. By the time they moved me to a bigger hospital, it was too late, my child had already died.
I have been suffering from depression for a long time. I have uterine fibroids, a disease that affects women.
We can't afford a balanced diet. We eat whatever we can just to fill our stomachs.
Many women feel they cannot go for gynecological exams because they are not married. Because that's where morality comes into play and that's a really big problem.
References
Nusratty, K & Ray, J.. (2022, April 4). Afghan Women and Men See Women Treated Worse After Taliban. Gallup.com. Retrieved September 6, 2022, from https://news.gallup.com/poll/391403/afghan-women-men-women-treated-worse-taliban.aspx
Ray, J. (2022, August 22). World Unhappier, More Stressed Out Than Ever. Gallup.com. Retrieved September 6, 2022, from https://news.gallup.com/poll/394025/world-unhappier-stressed-ever.aspx
The COVID-19 pandemic prevented Hologic and Gallup from surveying in Afghanistan in 2020.
Awan, Usman & Malik, Wasif & Afzal, Muhammad & Ahmed, Haroon & Zahoor, Sarmad. (2022). War-torn Afghanistan and cancer care: where to focus?. The Lancet Oncology. 23. 562-563. 10.1016/S1470-2045(22)00192-9
Ibid.
World Bank. (2022). Population, total - Afghanistan. The World Bank Data. https://data.worldbank.org/indicator/SP.POP.TOTL?locations=AF
Devi, S. (2020). Access to health care under threat in Afghanistan. The Lancet, 395(10242). https://doi.org/10.1016/s0140-6736(20)31447-1
France 24. (2021, December 26). Taliban bans women from travelling longer distances unless with male relative. France 24. https://www.france24.com/en/asia-pacific/20211226-taliban-say-no-trips-for-afghan-women-unless-escorted-by-male-relative
Reinhart, R. J. (2022, July 16). Suffering Reaches Unprecedented Levels in Afghanistan. Gallup.com. Retrieved September 6, 2022, from https://news.gallup.com/poll/391406/suffering-reaches-unprecedented-levels-afghanistan.aspx
Ray, J. (2022, August 22). World Unhappier, More Stressed Out Than Ever. Gallup.com. Retrieved September 6, 2022, from https://news.gallup.com/poll/394025/world-unhappier-stressed-ever.aspx
United Nations. (2022, March 18). Afghanistan: Food insecurity and malnutrition threaten 'an entire generation'. UN News. https://news.un.org/en/story/2022/03/1113982?
WHO (2022). Female Life Expectancy at birth. From https://www.who.int/data/gho/data/indicators/indicator-details/GHO/life-expectancy-at-birth-(years)
Ezadi, Z., Mohammadi, N., Sarwari, R., & Jafari, S. M. (2022). Afghan women and access to health care in the past 25 years. eClinicalMedicine, 43, 101235. https://doi.org/10.1016/j.eclinm.2021.101235
United Nations. (2022, May 9). Afghanistan: Nearly 20 million going hungry. UN News. https://news.un.org/en/story/2022/05/1117812
Nader, Z., & Amini, N. (2022, March 2). The Taliban Are Harming Afghan Women's Health. Foreign Policy. https://foreignpolicy.com/2022/03/02/the-taliban-are-harming-afghan-womens-health/