Cancer is one of the most frightening health challenges women face today. To fight this threat and improve outcomes for women, healthcare policymakers and leaders worldwide must better understand women's real-world experiences, especially when it comes to screening and treatment. The Hologic Global Women's Health Index targets women's perspectives and provides robust, self-reported quality data that can drive improvement in healthcare for women.
According to the World Health Organization (WHO), cancer is the second leading cause of death globally, accounting for an estimated 10 million deaths in 2020.
This number continues to increase.1 For example, the Breast Cancer Research Foundation states, "Globally, breast cancer now represents one in four of all cancers in women. Since 2008, worldwide breast cancer incidence has increased by more than 20%. Mortality has increased by 14%."2
When it comes to cancer, the right test—at the right time—can make a significant difference in whether women will live or die.
The Importance of Screening for Cancer in Women
Because testing is the essential first step toward fighting cancer and other diseases, the Index asked women whether they had been tested in the past 12 months for four of the most life-threatening diseases for women globally: high blood pressure, cancer, diabetes, and sexually transmitted diseases and infections.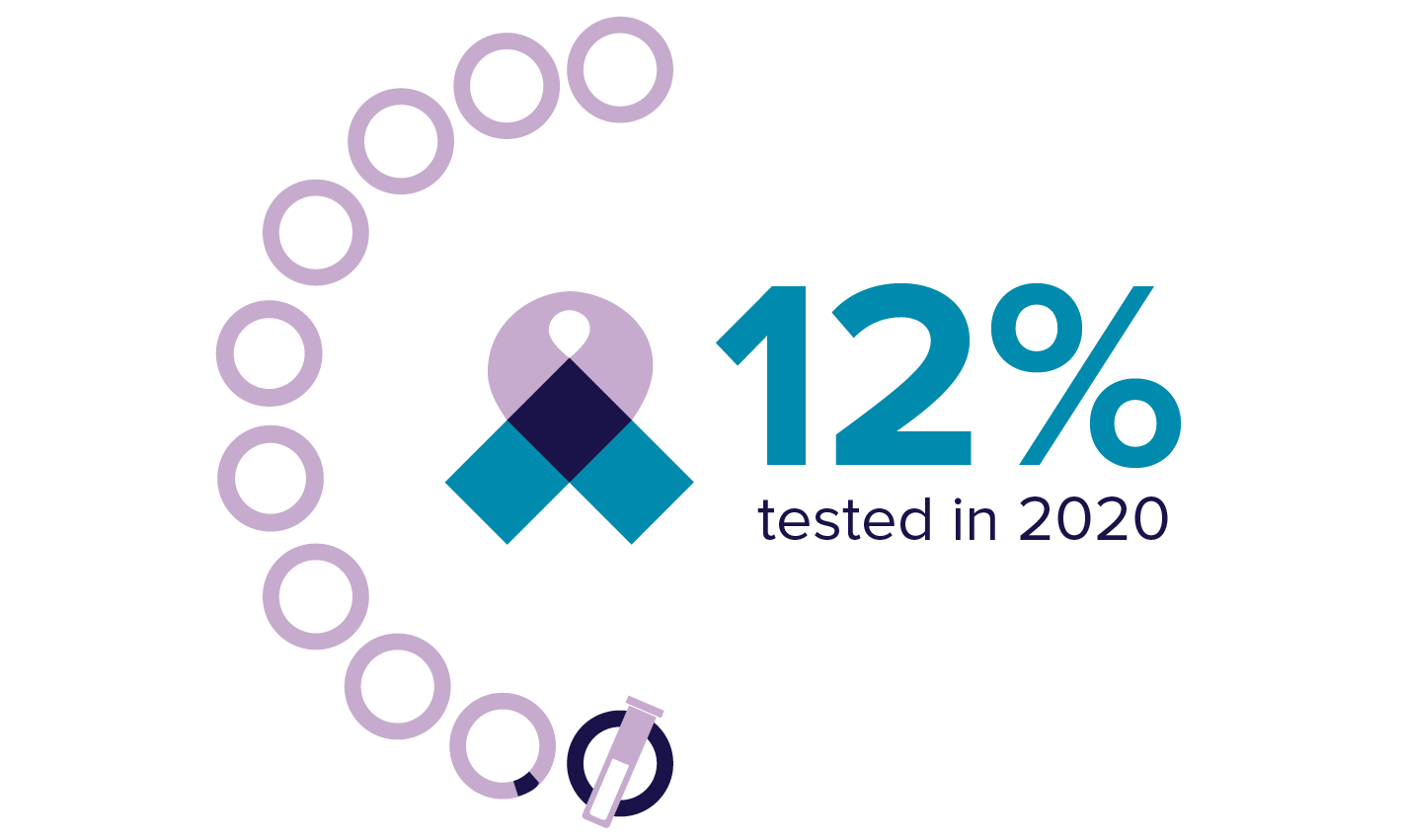 Worldwide, just 12% of women said in 2020 that they had been tested for any type of cancer in the last 12 months.
Although following WHO guidelines for early detection can facilitate treatment and make survival more likely, the Index reveals that the world could do much better in this vital aspect of women's healthcare.
Worldwide, just 12% of women said in 2020 that they had been tested for any type of cancer in the past 12 months.
But numbers were in the single digits in roughly 40 countries and territories. Fewer than 1% of women in Pakistan, where breast cancer statistics are thought to be the highest in Asia,3 said they were tested. There is no organized screening program for breast cancer in Pakistan, which makes early detection nearly impossible. Women in South Korea were the most likely in the world to say they had undergone a cancer screening, with 37% saying they had in the past 12 months.
The data revealed by the Index quantifies the gap between the need for cancer screening, awareness of the need, and the availability of testing around the world. As this gap is closed, more women will be able to fully participate in life with their families, in society, and throughout their communities.
Cancer Testing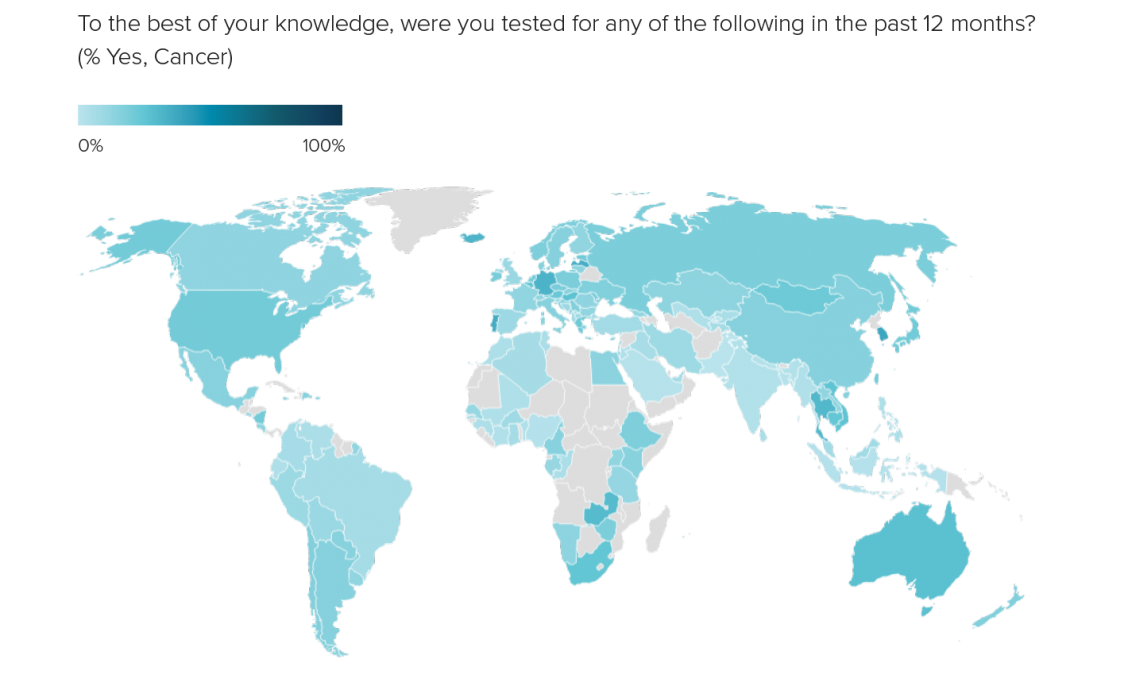 Globally, no country or territory has tested more than 37% of women for any type of cancer—and in a host of countries, the percentage is less than 10%.
Top Cancers Affecting Women
Breast cancer statistics show it is the world's most prevalent form of cancer among women. Worldwide, in 2020, around 2.3 million women were diagnosed with breast cancer, and, sadly, about 685,000 died of the disease.4 These tragic numbers amount to almost 2,000 female deaths per day or about 80 women per hour. On the other hand, with an early diagnosis, treatment can be highly effective, achieving survival probabilities of 90% or higher.5
Lung and bronchial cancer, colon and rectal cancer, pancreatic cancer, and ovarian cancer are also among the deadliest for women.6
According to the American Lung Association, lung cancer diagnoses are on the rise, increasing to a startling prevalence of 87% among women over the past 40 years while decreasing by 35% among men over the same period.7
Globally, colorectal cancer is the second most commonly diagnosed in women, according to the World Health Organization GLOBOCAN database. Unlike other cancers, the risk of colorectal cancer occurring can be mitigated by lifestyle changes, while early detection via colorectal cancer screening increases the odds of survival.8
Pancreatic cancer is the seventh leading cause of cancer-related deaths worldwide. However, unlike many other diseases, its toll is higher in more developed countries, and it is more common in men than in women. Lifestyle issues, such as smoking, contribute to the prevalence of this cancer, but genetic factors also play a role.9 According to the National Institutes of Health, "Screening of large groups is not considered useful to detect the disease at its early stage, although newer techniques and the screening of tightly targeted groups (especially of those with family history) are being evaluated."10
Ovarian cancer is the eighth most common cancer in women. It is difficult to diagnose as symptoms often don't arise until the cancer has spread.11 If early symptoms of ovarian cancer occur, the American Family Physician Journal recommends transvaginal ultrasound, serum cancer antigen 125 testing, and pelvic examinations.12
Guidance in Improving Cancer Screenings
Data from the WHO gives reason for hope when it comes to cancer. The organization reports that in countries where health systems are strong, survival rates of many types of cancers, such as breast cancer, are improving thanks to the accessibility of cancer screening, followed by quality treatment and survivorship care. In fact, some countries have even been able to increase the breast cancer survival rate by 2%–4% per year.13
By detailing the real-life experiences of women around the world, the Hologic Global Women's Health Index can provide awareness to put families, communities, societies, and economies on a path to improving cancer screening, testing, and outcomes.
Women's health is global health.
To learn more about the findings from the 2020 Hologic Global Women's Health Index, please download the report.