Pregnancy and birth transform a woman's life. Her circumstances at that pivotal time can mean the difference between a positive outcome and life-threatening risks to both mother and child before, during, and after the birth of the infant.
The inaugural Hologic Global Women's Health Index provides a sobering baseline account of the state of women's opinions and experiences with healthcare worldwide. The results clearly illustrate disparities and slow progress in women's health over the past few decades and how fragile gains for women are.1
To support women during and after pregnancy, healthcare policymakers and leaders must better understand the real-world impact of women's experiences. The Index provides robust, truthful insight into perceptions of the quality of maternal care—a topic that, until now, has been neglected in global statistics. The question was asked in a context of prenatal care based on personal experience and knowledge of local institutions.
Asking respondents to answer questions based on "the city or area where you live" helped them express their opinions more confidently since they were more likely to know about the situation locally rather than in their region or country.
By asking people about "most pregnant women," they are encouraged to consider a broad majority of women, regardless of their socioeconomic status and beyond their own social circle.
Top Pregnancy Risks
The Index notes that a woman's age at her first pregnancy and the pregnancy care available to her have the most significant impact on the life of the mother and child.
Worldwide, early childbearing or pregnancy in adolescence can have lasting negative effects on the mother's life, health, education, livelihood, and well-being. Many of these girls drop out of school, further limiting their opportunities for training or employment, and they become more vulnerable to a life of poverty and exclusion.2 Tens of thousands of adolescents die annually of causes related to pregnancy and childbirth. In fact, these are the leading cause of death among girls, aged 15–19, globally.3 Tragically, the children of these youngest mothers are more likely to die in the first year of life, compared to those born to women over age 20.4
In fact, the Index reveals that women who report first becoming pregnant at an age younger than 19 score worse in every one of the five dimensions studied (Basic Needs, Opinions of Health & Safety, Preventive Care, Individual Health, and Emotional Health) compared with women who first became pregnant at a later age.
The notable exception to this is Australia and New Zealand, where women score equally on the Index regardless of the age of their first pregnancy (scoring 65 at any age).
Statistics gathered by the World Health Organization (WHO) are staggering:
Approximately 12 million girls aged 15–19 years and at least 777,000 girls under age 15 give birth each year in developing regions.
At least 10 million unintended pregnancies occur each year among adolescent girls aged 15–19 years in the developing world.
Complications during teen pregnancy and childbirth are the leading cause of death for girls 15–19 years old globally.
Adolescent mothers (ages 10–19 years) face higher risks of eclampsia, puerperal endometritis, and systemic infections than women aged 20–24 years, and babies from teenage pregnancy face higher risks of low birth weight, preterm delivery, and severe neonatal conditions.5
94% of maternal deaths occur in low- and lower-middle-income countries and territories and are preventable with access to the right pregnancy care.6
The Five Dimensions of Women's Health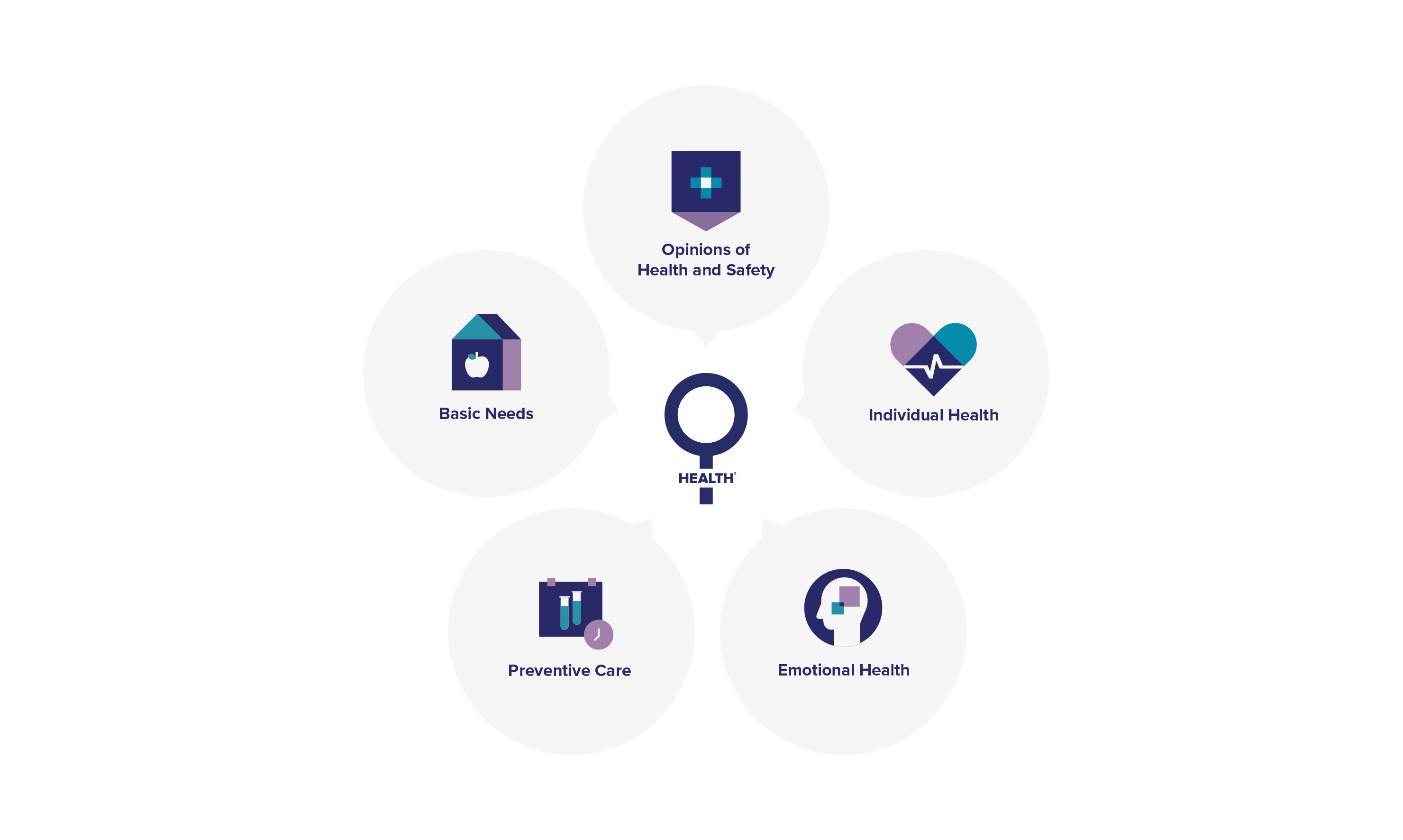 The five dimensions of the Hologic Global Women's Health Index are strongly related to female average life expectancy at birth. Age at first pregnancy and pregnancy care are major determinants.
Attitudes Toward Pregnancy Care
The Index revealed a range of opinions about the availability of appropriate healthcare for women in the countries and territories surveyed.
Nearly three in 10 women are not satisfied with the availability of quality healthcare in their community (29%), and 23% think most pregnant women do not receive high-quality care. This satisfaction is lower among women living in rural areas and those who experienced their first pregnancy before age 19.
Perceptions of the quality of prenatal care are lacking in global statistics—a critical dimension of women's healthcare experiences over the course of their lives.

Opinion of availability of high-quality care for pregnant women and average number of nurses and midwives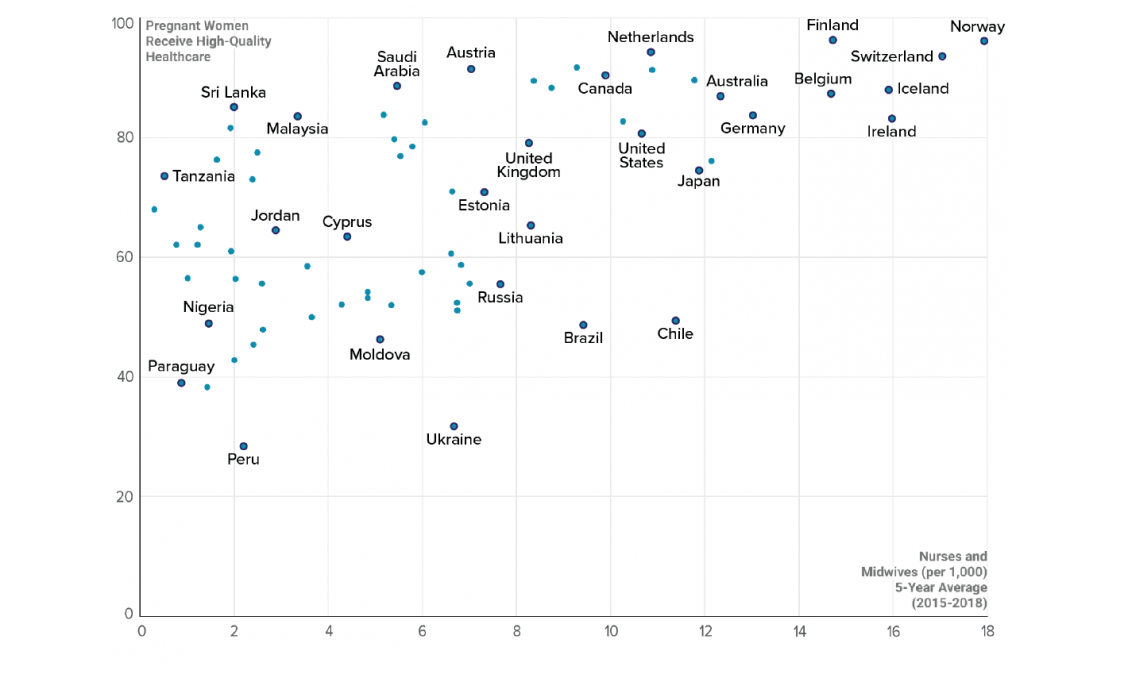 Countries with higher numbers of nurses and midwives have higher levels of agreement that pregnant women receive high-quality care.
The State of Pregnancy Care Today
Despite significant progress in reduction of mortality, there are still unacceptably high numbers of maternal and newborn deaths globally.7 Of these deaths, 94% occur in low- and lower-middle-income countries.8
USAID has committed to reversing this troubling statistic. Ending Preventable Maternal Mortality (EPMM), now an internationally accepted goal, engages both rich and poor nations/territories in reducing maternal mortality. The goal is to reduce the maternal mortality ratio to a global average of fewer than 70 per 100,000 live births by 2030, and to fewer than 50 per 100,000 live births by 2035.9
USAID also notes significant progress in certain countries. For example, Cambodia has reduced maternal mortality by 84%, surpassing the Millennium Development Goal 5. The organization credits the country's rapid economic growth, improved communications, and government investment in transport infrastructure and in health facilities as contributing to the dramatic improvement. Rwanda and Bangladesh also saw measurable gains.10
The data revealed by the Hologic Global Women's Health Index can help guide leaders toward improving pregnancy care and reducing mortality. As a result, more women will be able to help their families, communities, and societies thrive while enjoying the benefits of good health themselves.
Women's health is global health.
To learn more about the findings from the 2020 Hologic Global Women's Health Index, please download the report.