Feelings and emotions are intangibles that "hard data" like gross domestic product or even mortality rates cannot capture. The Emotional Health dimension of the Hologic Global Women's Health Index captured important nuances of emotional well-being by asking individuals about their negative feelings during the prior day.
In partnership with the Gallup World Poll, these four questions (asked for the past 15 years) were used to reveal trends in emotional health across the world.
QUESTIONS ASKED:
Did you experience the following during a lot of the day yesterday? ​​​​​​
Worry
Sadness
Stress
Anger
The answers can help guide healthcare and government leadership in understanding and addressing gaps in care for emotional health.
Many individuals experienced significant emotional pain in 2020, with the COVID-19 epidemic making the period especially difficult for individuals, families, and communities. In fact, experiences of worry, stress, sadness, and anger set new records and continued to rise. Stress alone increased from 35% to 40% worldwide in the span of a year.
About four in 10 women said that they experienced worry (40%) and stress (38%) during a lot of the day before the survey, while about one in four said they experienced sadness (26%) and anger (23%).

Emotional Health Has a Disproportionate Effect on Women
The burden of emotional pain falls disproportionately on women, according to the World Health Organization:
Depressive disorders account for close to 41.9% of the disability from neuropsychiatric disorders among women, compared to 29.3% among men.
Leading mental health problems of older adults are depression, organic brain syndromes, and dementia—a majority of which occur in women.
An estimated 80% of 50 million people affected by violent conflicts, civil wars, disasters, and displacement are women and children.
The lifetime prevalence rate of violence against women ranges from 16% to 50%.
At least one in five women suffer rape or attempted rape in their lifetime.1
The Highs and Lows of Emotional Health around the World
Scores on the Emotional Health dimension of the Index (which includes Basic Needs, Opinions of Health & Safety, Preventive Care, Individual Health, and Emotional Health) ranged widely from a high of 89 in Taiwan to a low of 39 in Iraq. Worldwide, those younger than age 75 are more likely to experience negative feelings, as are those who experienced their first pregnancy before age 19.
Best-Performing Countries/Territories for Emotional Health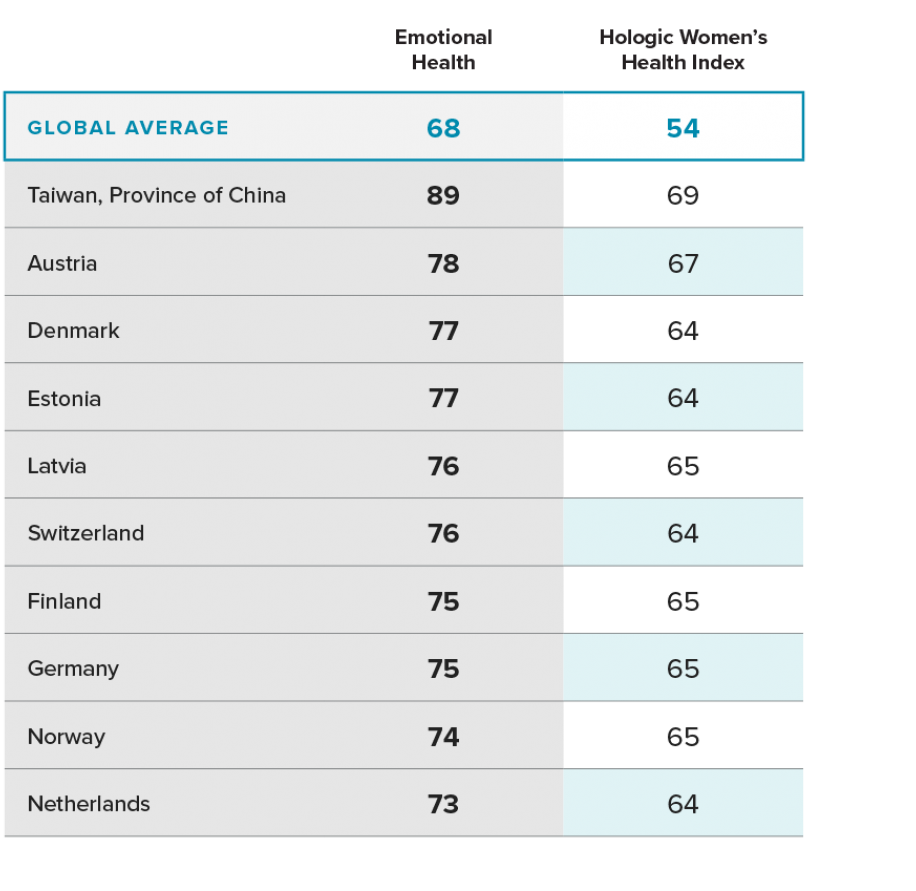 Higher scores on the Emotional Health component mean fewer women are experiencing negative feelings on a given day.
Women in Taiwan, who also score well on other dimensions of the overall Index, score highest globally on the Emotional Health dimension with an 89. This means many women are not experiencing negative emotions—in fact, the percentages of Taiwanese women who were sad, angry, or worried were all in the single digits. Women in Kazakhstan and Mauritius also scored high on this dimension in 2020, with levels of stress, anger, worry, and sadness that were remarkably similar to their low levels in previous years.
Most Challenged Countries/Territories for Emotional Health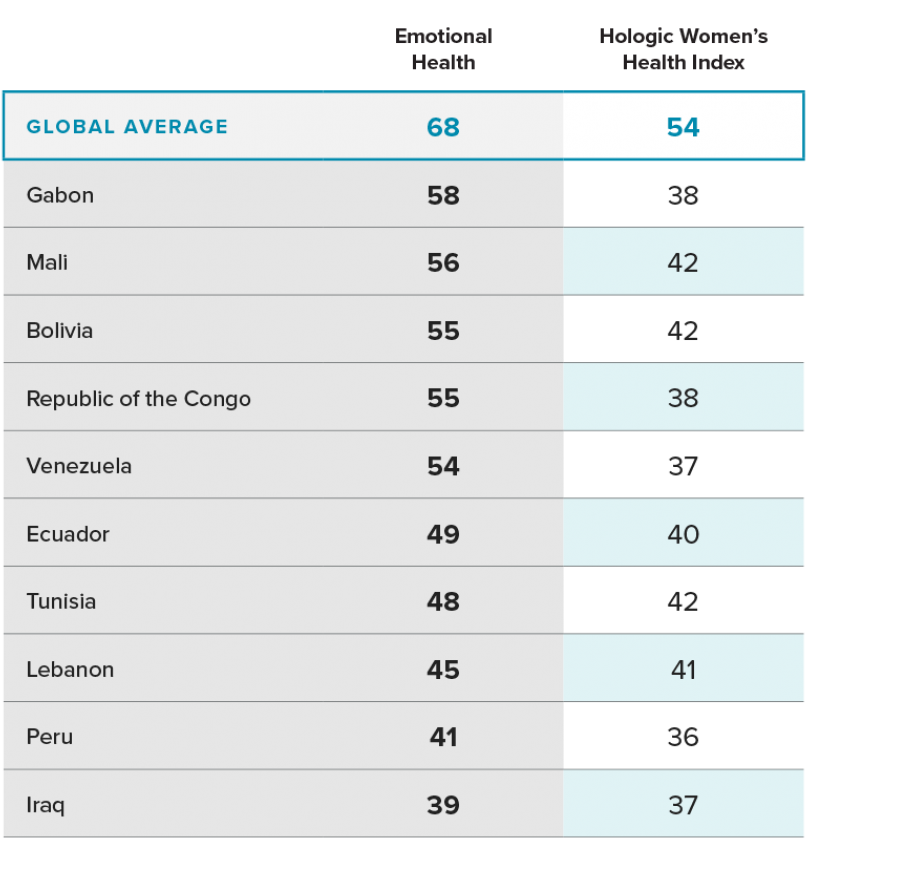 Lower scores on the Emotional Health component mean more women were experiencing negative feelings on the day before the survey.
Many of the countries where women posted the lowest scores on the Emotional Health dimension reflected the political or economic strife engulfing their countries in 2020—with protests taking place from Iraq to Uganda.2
Women's scores in Iraq, where unrest intensified in late 2020, were the worst in the world at 39.3 Majorities of women in the country experienced each of the negative feelings—with 57% reporting that they'd been angry during a lot of the previous day.
Why Emotional Health Matters
Stress, worry, sadness, anger, and other emotions are all a normal part of life. But these feelings can become overwhelming and interfere with an individual's ability to carry out everyday tasks. They can also cause—or be—symptoms of more serious conditions, such as anxiety and depressive disorders, or other mental health diagnoses.4
Moreover, there is a growing body of evidence that emotional health can positively or negatively affect cardiovascular health and cardiovascular risk factors.5 The release of hormones caused by long-term stress can lead to physical and emotional problems, weaken the immune system, and even cause cancer to spread faster.6
According to the World Health Organization (WHO), there is increasing acknowledgment of the role mental health plays in achieving global development goals. Depression is one of the leading causes of disability. Suicide is the second leading cause of death among 15–29 year olds. People with severe mental health conditions die prematurely—as many as two decades early—due to preventable physical conditions.
Despite progress in some countries, people with mental health conditions often experience severe human rights violations, discrimination, and stigma.7
According to the WHO: Many mental health conditions, such as anxiety in women, can be effectively treated at relatively low cost, yet the gap between people needing care and those with access to care remains substantial. Effective treatment coverage remains extremely low.8
The Five Dimensions of Women's Health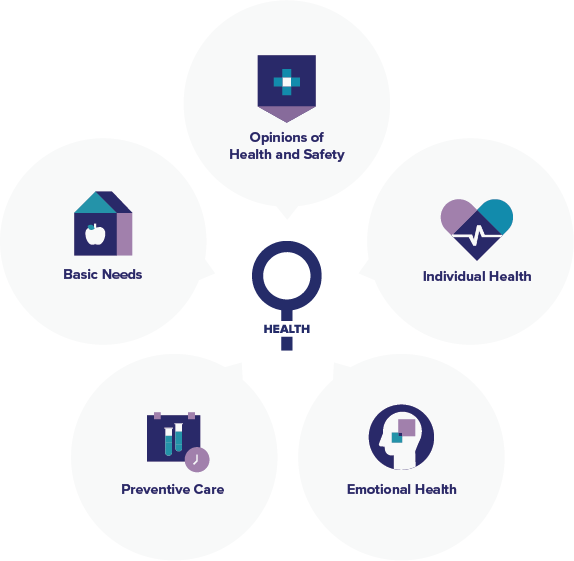 The five dimensions of the Hologic Global Women's Health Index are strongly related to female average life expectancy at birth.
Reducing the incidence of these negative feelings—particularly stress and worry—are major challenges. But doing so can lead to better health outcomes for women.
Women's experiences with health problems (the Individual Health dimension) and their ability to afford food (the Basic Needs dimension) are both related to a higher incidence of feeling negative emotions.
The Index provides a sobering baseline account of the state of women's health worldwide. The results illustrate how uneven and slow progress in women's health has been over the past few decades and how fragile gains for women are. However, there is a path to improvement in emotional health. The WHO recommends increased investment for awareness, access to care, effective treatments, and research to identify new treatments and improvements to existing treatments.9
The data revealed by the Hologic Global Women's Health Index can help guide health and community leaders toward increased investment and attention around women's emotional health. As a result, more women around the world will be able to help their families, communities, societies, and economies thrive while also enjoying the benefits of good health themselves.
Women's health is global health.
To learn more about the findings from the 2020 Hologic Global Women's Health Index, please download the report.