Sexually transmitted diseases and infections (STDs/STIs) are threatening to women's health around the world. To reduce the impact, healthcare policymakers and leaders everywhere need to better understand women's real-world experiences with screening and treatment. The Hologic Global Women's Health Index focuses on women's perspectives and provides robust, self-reported quality data that can drive improvement in the challenges women face.
The Scope of the Problem
Worldwide, more than one million STDs/STIs are transmitted every day.
They are often transmitted by a trusted partner, and many of these diseases and infections do not cause visible symptoms.1
Effects are not limited to the individual. Mother-to-child transmission can result in stillbirth, neonatal death, low birthweight and prematurity, sepsis, pneumonia, neonatal conjunctivitis, and congenital deformities. Approximately one million pregnant women were estimated to have active syphilis in 2016, resulting in over 350,000 adverse birth outcomes, of which 200,000 occurred as stillbirth or neonatal death.2
Women suffering from STDs or STIs can also face severe social and economic challenges. They may be blamed for transmitting the illness and infertility resulting from it, and they may even experience violence, abandonment, or divorce. Contracting STDs/STIs can also contribute to time away from work or loss of work, resulting in lower income for affected individuals.3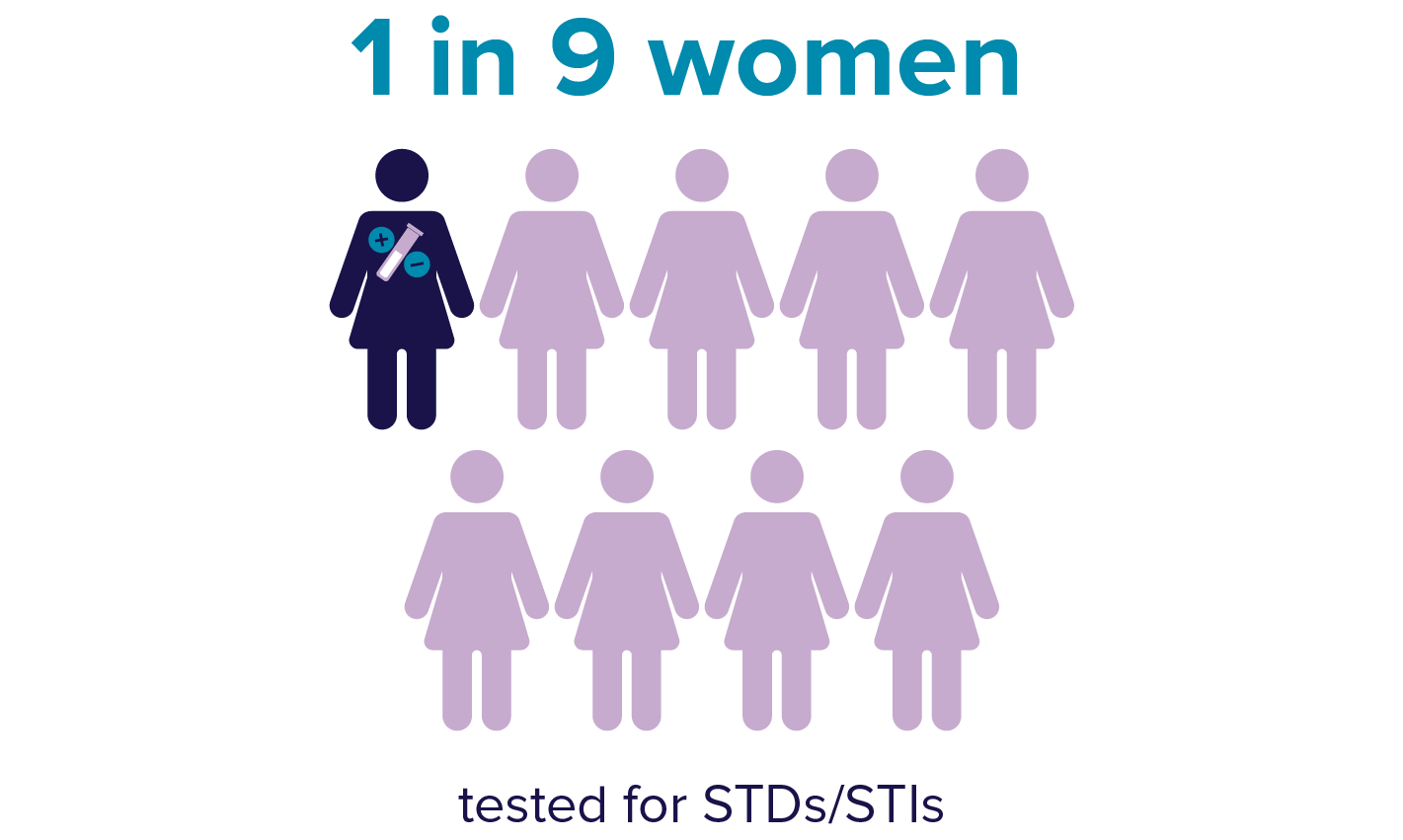 Fewer than one in nine women worldwide said they had been tested for STDs/STIs in the past 12 months when asked in 2020.
Lack of Adequate Response
In spite of the significant health risks posed by STDs/STIs, the Index reveals that, worldwide, only about one in nine women (11%) say they had been tested for an STD/STI in the past 12 months. In fact, in 56 of the 116 countries and territories studied in 2020, fewer than one in 10 women reported they had been tested.
Testing percentages varied widely by country and territory. Nearly half of women in countries such as Zambia (48%), South Africa (47%), and Tanzania (46%) said they have been tested. This could be due to the high rates of HIV infections in the region and the fact that these countries have already implemented extensive testing measures.4
This sub-Saharan region of Africa has been the hardest hit by HIV and, in particular, HIV in women. It is home to around 6.2% of the world's population but over half (54%) of the total number of people living with HIV in the world (20.6 million people). The U.S. Agency for International Development (USAID) notes that, across the region, "Six in seven new HIV infections among adolescents aged 15–19 years are among girls. Young women aged 15–24 years are twice as likely to be living with HIV than men. Around 4,200 adolescent girls and young women aged 15–24 years became infected with HIV every week in 2020."5
Sexually Transmitted Diseases and Infections Testing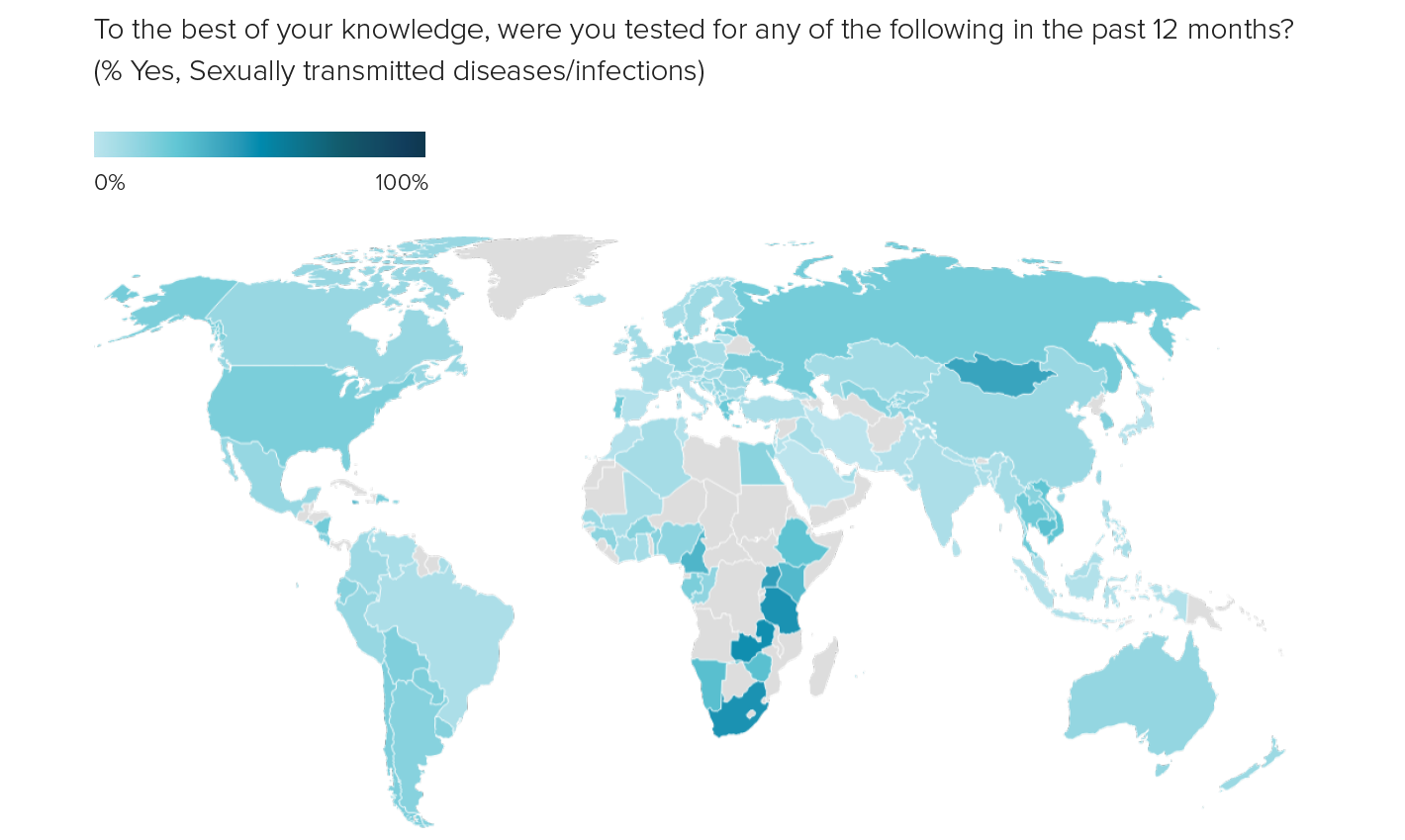 The rate of STD/STI testing varies widely by country and territory, and testing faces many barriers.
With the right educational framework and screening techniques, the risks and consequences of STDs/STIs can be reduced, but there are significant barriers to screening and treatment across the world.
Barriers to STD/STI Testing and Treatment
The World Health Organization (WHO) notes that these barriers include:
Limited resources, stigmatization, poor quality of services, and little to no follow-up of sexual partners
Lack of accessible screening and treatment through routine health services, especially for asymptomatic infections
No access to adequate healthcare services for marginalized populations with the highest rates of STIs
Unavailability of diagnostic tests in low- and middle-income countries
Few inexpensive, rapid tests available; usually only for syphilis and HIV6
There are many pathways to prevention of STIs/STDs and the associated stigma.7 But identifying and treating these disorders is much more complicated. Systematic screening can be a start. Better access to treatments is also needed.
The data revealed by the Hologic Global Women's Health Index can help guide health and community leaders toward increasing screenings and improving care to combat one of the most significant threats women face. As a result, more women around the world will be able to help their families, communities, societies, and economies thrive while also enjoy the benefits of good health themselves.
Women's health is global health.
To learn more about the findings from the 2020 Hologic Global Women's Health Index, please download the report.